Forest bathroom furniture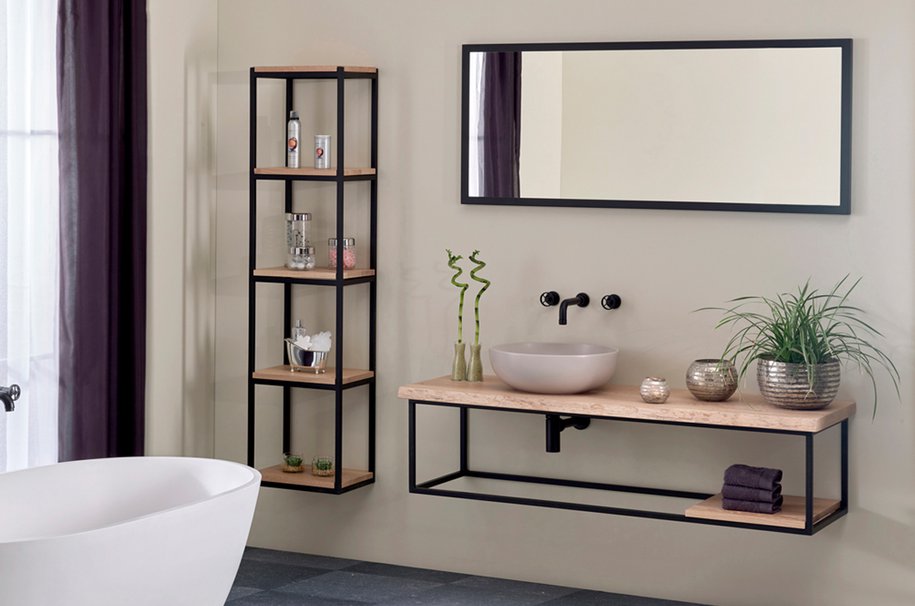 The Forest collection is based on a timeless design, a fusion between nature and technology. The open shelf for free-standing washbasins consists of a simple metal frame on which we place an oak shelf. The depth is 52 cm and the height 34 cm, while the length is tailormade, between 50 and 300 cm. The metal frame is painted in black. The solid oak shelf is varnished, and the front edge can be straight or retain the natural rough shape of the wood. You can obtain additional storage if you opt for an additional shelf. Combine this open shelf with a freestanding washbasin in Solid Surface from Mcbath or Pure White. Or do you prefer the porcelain free-standing washbasins from Valdama that are available in a lot of trendy colours? The choice is entirely yours.
Complete your bathroom in the same style with the Forest mirror (height 60 cm) with a black metal frame and a customizable length of 50 to 200 cm. The open column cabinet with black metal frame and shelves in oak (height 160 cm, width 40 cm, and depth 30 cm) brings also a lot of easy storing space. With the Forest collection you opt for a unique style with quality materials and the "Made in Belgium" label.
The Forest collection certainly fits into a country style bathroom. Yet this collection is on our Aqua Sento website, which lets you discover our design bathrooms. Click here to take a look.
Posted on:

Nov. 6, 2019, 8:37 a.m.

Author :

Gilad